Humongous Rectangular Gardens
Edit
Humongous Rectangular Gardens is featured Backyard Basketball, Backyard Basketball 2004, Backyard Hockey, and Backyard Hockey 2005. This is where you play the championship game. It is based on the real-life Madison Square Garden in New York City.
Backyard Basketball
Edit
In Backyard Basketball this is where the championship game is played. However, it is not unlockable and can only be played when you reach the finals in season play.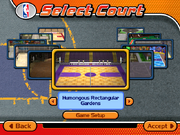 Backyard Basketball 2004
Edit
Unlike its predecessor, the court is now unlockable. However, to unlock it, you must make it to the BBA finals. Sunny Day and Barry Dejay broadcast the games from center court side.
Backyard Hockey
Edit
The Clanky Cup is played here, and is unlocked by making it to this rink.
Backyard Hockey 2005
Edit
The All Star game and the Clanky Cup is played at this rink. It is unlocked by making it to the finals. Sunny Day and Buddy Cheque broadcast their games above center ice, and at higher view than the crowd. This is also the largest featured crowd in the game.
Along the rink, you can see all of the custom teams logos.
At center ice, the Humongous Entertainment logo is presented. Along the boards you see logos of the BHL, NHL, and Atari.
When you win the Clanky Cup, fire works go off around the arena.
The goal horns are the same for both home and away teams. It sounds like a basic hockey siren.