Gretchen Hasselhoff

Character Info

Nickname(s)
"Jabberjaw"
Birthday
May 31
Family
Mother & Father
Tommy (cousin)
Friend(s)
Angela Delvecchio
Active?
No, discontinued
First Appearance
Backyard Baseball
Last Appearance
{{{Last Appearance}}}
Voice Actor(s)
Corrie-Ann Shenigo (1997-1998)
Dolores Rogers (1999-2001)
Lani Minella (2002)
Gretchen
was one of the characters in the original
Backyard
series until
Backyard Baseball 2006
. She was known for being one of the chattiest players in the league and probably talks with no spaces.
Physical Appearance
Edit
Gretchen is a girl of average height. She wears a white shirt and blue jeans. She wears her blonde hair in two pigtails. In her last appearances, the pigtails are gone, and her hairstyle is different giving her a more boyish appearance, her height is a little shorter, and she wears a blue unbuttoned shirt over the white shirt.
Personality
Edit
Gretchen is hyperactive and likes to talk. She is a fast runner (for the most part) and often speaks her mind. She has a puppy named Latar (based on the video game).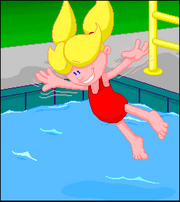 Player Cards
Edit
Gretchen is fast and smart. She likes playing in the outfield, but her arm is pretty weak so it takes her a few tries to throw the ball back.
Skill Ratings
| | |
| --- | --- |
| Batting | |
| Running | |
| Pitching | |
| Fielding | |
If you think Gretchen's mouth is fast, you should see her dribble the ball. Her nice touch makes her a good choice at midfield.
Skill Ratings
| | |
| --- | --- |
| Kicking | |
| Control | |
| Defense | |
| Running | |
Gretchen is one of the fastest players in the league. She's also got one of the fastest mouths. If she ever stops talking, she'd make a pretty good running back.
Skill Ratings
| | |
| --- | --- |
| Throwing | |
| Catching | |
| Running | |
| Blocking | |
| Kicking | |
This little jabber-mouth has one of the best slo-mo pitches in the league, plus she gets nice movement on her hooks. Not the strongest throwing arm in the field (in fact, probably the weakest) because she tends to get too excited when the ball comes her way.
Bats: Left
Throws: Left
Skill Ratings
| | |
| --- | --- |
| Batting | |
| Running | |
| Pitching | |
| Fielding | |
Gretchen has a cellphone with her in her last appearances.
Gretchen, Kimmy Eckman, and Angela Delvecchio were all voiced by Corrie-Ann Shenigo, Dolores Rogers, and Lani Minella.
She may be a tribute to actor David Hasselhoff.
She happened to be good at hitting in Backyard Baseball 2005 and '06. Although in the previous games, she was bad at it.
In Junior Sports Basketball for Pal Regions of PS2, her name was Heather Wallace and she had an Irish accent.