Billy Jean Blackwood

Character Info

Nickname(s)
"Crazy Legs"
Birthday
January 26
Family
N/A
Friend(s)
Marky Dubois
Active?
No, discontinued
First Appearance
Backyard Baseball '97
Last Appearance
Backyard Baseball '07
Voice Actor(s)
Jen Taylor (1997-2002)
Lani Minella (2002-2003)
Billy Jean Blackwood
is a discontinued
Backyard Sports
character who loves fashion and dreams of going to Paris. She is considered the "Beauty Queen of the Bayou".
Marky Dubois
is known to have a crush on her, but her stats get worse when they both are on the same team. Although she speaks some French, she has a slight deep South accent.
Appearance
Edit
1997-2003
Edit
Billy Jean has reddish-brown hair tied into a ponytail, is very tall and wears a Fuchsia colored shirt and Light blue jeans that come up just above her ankles, and white sneakers.
2004-2007
Edit
Billy Jean's hair is tied into a braided ponytail, wears a Pastel green shirt showing her belly button, blue jeans and white sneakers. She does not appear in anymore Backyard Sports games.
Statistics
Edit
Player Cards
Edit
Billy Jean's height makes her a good choice to play first base because she's got a good reach. The problem is, though, she doesn't catch very well.
Skill Ratings
| | |
| --- | --- |
| Batting | |
| Running | |
| Pitching | |
| Fielding | |
Billy Jean sure is tall. She closes her eyes when she heads the ball, though. She's known to have good shooting accuracy.
Skill Ratings
| | |
| --- | --- |
| Kicking | |
| Control | |
| Defense | |
| Running | |
Billy Jean's got a strong arm and a sharp eye, not to mention all of the back issues of "La Beauty Monthly." If you can get her to stop playing with her hair, she'd be a mighty-fine QB.
Skill Ratings
| | |
| --- | --- |
| Throwing | |
| Catching | |
| Running | |
| Blocking | |
| Kicking | |
The 'Beauty Queen of the Bayou', Billy Jean is a little suspect with the glove, but has a terrific arm and is a great contact hitter. Her best position is first base because with her height and long arms, she's hard to overthrow.
Bats: Right
Throws: Right
| | |
| --- | --- |
| Batting | |
| Running | |
| Pitching | |
| Fielding | |
Personality
Edit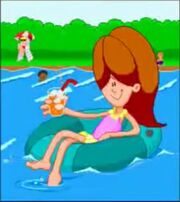 Billy Jean has concern about looking attractive, as she finds it obligatory when she eventually travels to Paris to be a supermodel.
She bears a striking resemblence to the Noozles character Sandy Brown, who also had long red hair tied up in a ponytail. This means that her physical appearnece could have been the inspiration for Billy Jean.
Billy Jean is one of the many female characters to be girly, the others being Maria Luna, Ashley Webber, and Sidney Webber.
When Backayrd Sports was revamped in 2015, she was not mentioned or even shown.